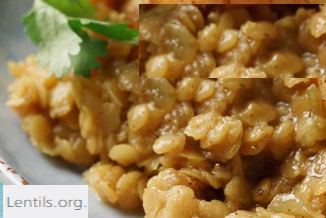 Moroccan red (or orange) lentils make for a warm and comforting dish. Red lentils are economical and very easy to prepare. Since they are split lentils they cook up more quickly than other types of lentils and are soft textured, similar to mashed potatoes or creamy risotto.
Lentils are a nutrient powerhouse packed with plant protein, high in fiber and contain many micronutrients. Here is an easy way to make them using a mix of Moroccan inspired spices. Enjoy this version and do try other spices you like because red lentils easily take on any flavor you add to them.
Prep Time: 5 Minutes Cook time: 10 minutes Total time: 15 Minutes
Servings: 4
Ingredients
1 tsp (5 mL) ground cumin
1 tsp (5 mL) ground coriander
1 tsp (5 mL) ground cinnamon
1/2 tsp (2 mL) turmeric
1 Tbsp (15 mL) canola oil
1/2 cup (125 mL) chopped onion
2 garlic cloves, minced
1 Tbsp (15 mL) minced fresh ginger
1 cup (250 mL) split red lentils
2 1/2 cups (625 mL) vegetable broth
1/4 cup (60 mL) chopped fresh cilantro
Method
In a small bowl, stir together cumin, coriander, cinnamon, and turmeric.
In a medium saucepan over medium-high heat, add 1 Tbsp (15 mL) of canola oil. Stir in onion, garlic, and ginger and sauté for 4 minutes. Stir in 2 1/2 tsp (12 mL) of the spice mixture and cook for 30 seconds.
Stir in lentils and cook for 20 seconds, stirring to coat them in the spice mixture.
Stir in vegetable broth. Cover and bring to a boil. Reduce heat to medium and cook for 10 minutes, just until lentils are tender.
Remove from heat and stir in most of the cilantro. Season with ground black pepper and garnish with more cilantro.
Recipe adapted from lentils.org