We support individuals and companies like yours to integrate current and credible food, nutrition, and culinary content into their programs, operations, and culture.
Nutrition seminars can be for an hour as a Lunch & Learn, or Full Day or Half Day tailored to your needs. They can be set up in person or online.
---
Corporate Nutrition & Wellness
Nutrition for NON-Nutritionists™
Leverage the Growing Consumer Interest in Nutrition and Healthy Foods
Who is this course for? Professionals in the Food, Beverage & Grocery Industries
Description: Nutrition for NON-Nutritionists™ is a hands-on educational course specifically designed to help your business leverage the growing consumer interest in nutrition and healthy foods. Since 2007, the course has reached hundreds of food and beverage professionals across Canada. N4NN is the ONLY online nutrition course in Canada developed by marketing savvy dietitians for food, beverage and product innovation professionals.
In 5 online modules, you will gain in-depth nutrition knowledge and understanding of the power of food for health.
---
Workplace Wellness & Employee Health
Who is this workshop for? Employees looking to build a culture of good health
Description: We partner with you to deliver a team-building opportunity and provide a positive shift in food and nutrition knowledge that promotes healthy balanced eating. Our interactive style engages participants and leaves them with valuable tools that they can use both at home and at work to eat and live better.
Did you know that an estimated 60% to 70% of Canadians have coverage for dietitian services within employer benefit plans? Dietitians are the only regulated health professionals in the field of nutrition. Click here to find out more about why dietitians are the best choice for employee benefit plans.
---
Healthful Recipe & Menu Makeovers
Who is this workshop for? Consumers or culinary professionals (chef / food service operator)
Description: Are you looking to discover how to boost the goodness in your recipes? Canadians want to enjoy food without giving up the taste they love or their desires for healthier choices. Our innovative workshop offers a push-pull model for the opportunity to create more healthful recipes. Start swapping and discover just how easy it is to make your favourite recipes healthier without sacrificing flavour. Join this workshop and check out how a Registered Dietitian, Nutritionist puts an evidence-based, healthful spin on recipes to help you get started on your healthy cooking makeover.
---
Healthy Eating & Cooking
Be a Healthy Food Shopper & Healthy Cook
Who is this workshop for? Consumers and Professionals
Description: Healthy eating starts with making wise choices at the grocery store, yet so many people find it hard to pick the healthiest options! In this interactive 'virtual trip down the grocery aisles', recognized Registered Dietitian Lucia Weiler will share her top tips to help you make smart food choices for health and wellness. You will also build confidence in reading labels so your food shopping can get easier, healthier and less expensive. Discover the main components of a healthy diet and how to choose the healthiest options for your cooking and eating!
---
Nutrition Trends and Mythbusting – What's Hot, What's Not
Who is this workshop for? Consumers and Food / Nutrition Professionals
Description: What's hot? What's not? Trends and Mythbusting workshop is an interactive fun way to learn about what's in – and what's out – when it comes to nutrition and healthy eating. We often hear that Canadians are confused about all the different messages that are out there about food and nutrition. As dietitians, we are credible and trusted voices who can help Canadians look beyond the fads and gimmicks.
For consumers, we bust myths around food and nutrition. For professionals, we also check out top grocery trends and look behind the scene for the hottest menu trends 10 years from now!
---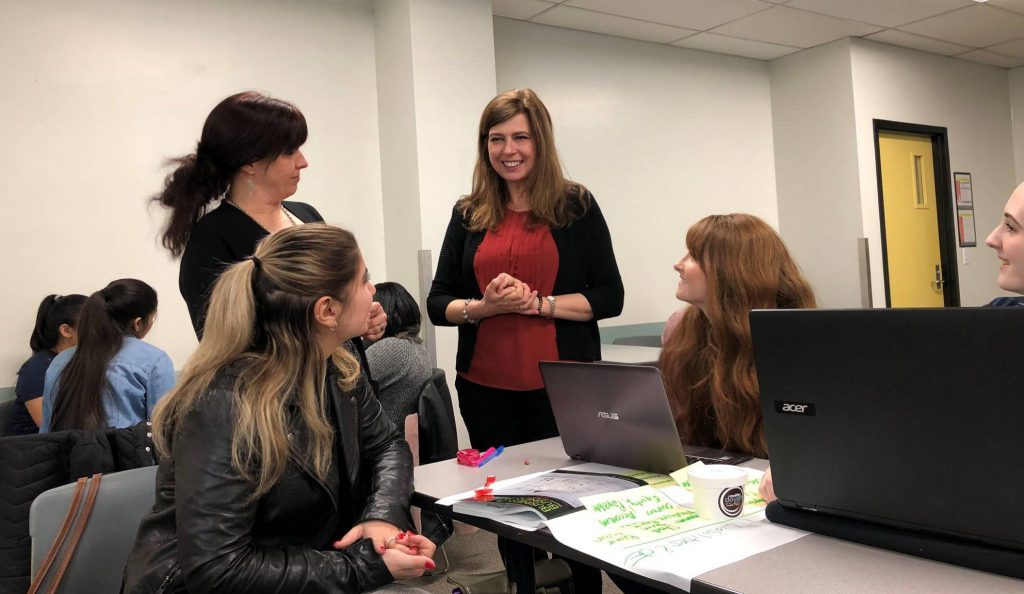 Your healthy weights and body image – How to change your food lifestyle
Who this workshop for? Consumers and Professionals
Description: Healthy eating is easier with skill power. Many people have trouble making healthy choices even when they know what to eat. Discover why you eat the way you do and what to do about it. Recognize mindful eating habits that to support your lifestyle changes, healthy weights and positive body image. Build your healthy relationship with food.
---
Healthy eating for ages and stages
What to Eat for Healthy Ageing
Who is this workshop for? Consumers
Description: A healthy diet is a good foundation for healthy ageing. Discover age-related challenges in healthy eating and learn more about the scientific recommendations and nutrition strategies for seniors.
---
Solutions for Picky Eaters
Who is this workshop for? Consumers
Description: Do you have picky eaters in your family? Discover the importance of healthy childhood nutrition and positive food relationship in the family. Receive expert tips and troubleshooting activities and planning resources.
---
Eat to Win – Customized Diets Tips for Athletes
Who is this workshop for? Consumers
Description: Athletes in training require an evidence-based eating plan that meets their physical demands. Discover the keys to nutrition and peak performance; discuss healthy food sources to achieve your performance goals.
---
Leadership Training & Professional Development
Boost Your Inner Entrepreneur
Who is this workshop for? Professionals and Students
Description: Building your entrepreneurial skills can help you learn, grow and innovate whether you aspire to work for an organization, start your own business or devote your time to teaching or public service. In this interactive discovery of your inner entrepreneur, Lucia Weiler R.D. will help you find your own approach to boosting your entrepreneurial mindset.
---
Discover your Top 5 Character Strengths and How to Leverage Them at Home and at Work
Who is this workshop for? Professionals and Students
Description: Identify your top character strengths to build on and develop your greatest talents. This strength-based leadership training for individuals and teams leverages positive psychology to focus on the character strengths and behaviours that build meaning and work-life satisfaction. Teams move beyond simply working together to flourishing through diversity and inclusion.
---
Food Safety Certification for Pros and Everyday Cooks
Who is this course for? Food Handlers / Culinary and Nutrition Professionals.
Description: One in eight Canadians (or four million people) get sick due to food illness each year according to Health Canada. As a food service professional, you have a responsibility to provide safe food. Our programs will help you learn how to do that. Government regulations describe the requirements for food sanitation and hygiene training programs. We engage chefs, managers and staff about safe food handling practices to meet regulations and accreditation standards for certification. Our food safety courses are interactive and designed to help your team meet their food safety training needs.