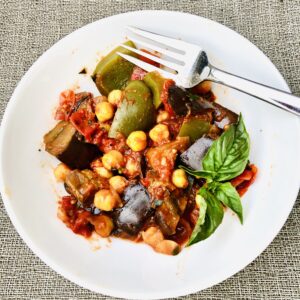 Image: Lucia Weiler RD
Chickpeas are loaded with fibre and protein. Ratatouille is a classic veggie stew with eggplant or zucchini, peppers and tomatoes. As a dietitian I love this quick and easy way to prepare chickpeas and veggies. It's perfect for meal prep and easy weeknight dinners.
Eat as a side dish or serve over whole grains or pasta.
Vegan and Vegetarian
Preparation Time: 15 minutes
Cooking Time:  30 minutes
Yield: 3 – 4 servings
Ingredients
1 medium eggplant cut into 1-inch cubes (about 2 cups)
1 bell pepper diced into 1- inch pieces
½ cooking onion diced
3 cloves garlic, minced
2 TBSP olive oil, divided
1 can (398 mL) cherry tomatoes
½ can (270 mL) chickpeas drained and rinsed
1 tsp dried oregano
Freshly ground black pepper
½ cup fresh basil, chopped
 Directions
Preheat oven to 400°F and line a baking sheet with parchment paper.
Arrange the eggplant and bell peppers on the baking sheet and brush with 1 TBSP olive oil (optional) and season with black pepper and oregano.
Toss to coat, and then bake for 20 minutes or until lightly golden brown.
Meanwhile teat 1 TBSP olive oil in a large pot over medium heat. Sauté the garlic and onion for 1 minute then stir in the canned tomatoes and chickpeas. Simmer for 5 minutes and set aside.
Add the baked eggplant and peppers from the oven. Stir in the basil and season to taste.
Serve on its own or with cooked whole grain pasta or quinoa or millet.
Tips
You can substitute zucchini for eggplant or use a mixture of both
Store leftovers in an airtight container for 3-4 days.