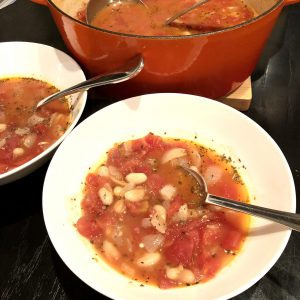 This tasty and hearty tomato soup is an all time favourite that you can put together in just 5 minutes.  It's also budget friendly & nutritious providing veggies & protein. Toss a few pantry staples into a pot, cook for 30 min over a stove and enjoy.
PREP 5 mins COOK 30 min
Makes 5 servings  (1.5 cups / 375 mL each) 
Ingredients: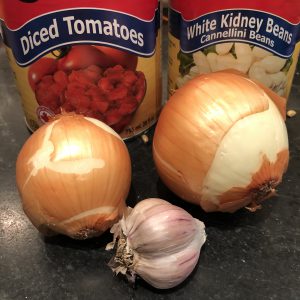 1 tablespoon vegetable oil
1 large onion, chopped
2 cloves garlic if, chopped
1 can (28 oz/ 780 ml) tomatoes
1 can (19 oz / 540 mL) white kidney beans, drained & rinsed
1/4 tsp black pepper
1 tsp dried basil or oregano
2 cup water or low sodium broth
Pinch of salt to taste
Method:
In a pot, combine oil, onion, garlic and sauté for 3-5 min
Add the large can of tomatoes & rinsed can of beans.
Add dried herbs, pepper, water or broth and simmer for about 30 minutes.
Video of how to make it.  Tomato Soup Recipe Cooking IMG_4184
Kitchen & Nutrition Notes:
White kidney beans are also called Cannellini beans are large white beans . They are popular in Italian cuisine, particularly in Tuscan dishes. Beans are inexpensive and a great way to boost plant based protein and fibre.
Tomatoes' red pigment comes from lycopene which has antioxidant properties. Foods rich in the red pigment lycopene like tomatoes, have been shown to protect against some kinds of cancer.