Brussels Sprout with Crisp Gnocchi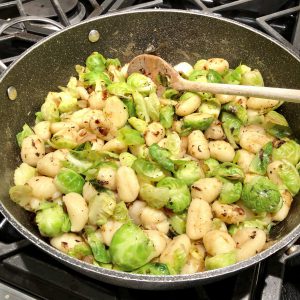 Brussels sprouts are a hardy vegetable that some people find challenging to cook. But because they offer so much goodness it's worth finding ways to enjoy them more often. Here is an easy and tasty recipe that you can prepare from your pantry staples in one pot and enjoy within 20 minutes.
Did you know that brussels sprouts are very high in vitamin C and are a source of fibre, iron, potassium and folate. Adapted from NYT cooking, as a dietitian I boosted the veggies, used healthy cooking oil and added a twist of lemon juice to brighten the flavour and help the body absorb iron from the brussels sprouts.
Brussels Sprout with Crisp Gnocchi
Ingredients
1.5

lbs

brussels sprouts

580 g

.5

lemon

zested and juiced

.25

cup

extra-virgin olive oil

.5

tsp

ground black pepper

.5

tsp

red-pepper flakes

1

lb

package shelf-stable or refrigerated potato gnocchi

450g

3

tbsp

olive oil divided

freshly grated Parmesan

for serving

salt

to taste
Instructions
Trim and halve the brussels sprouts.

Grate ½ lemon – should have about 1 teaspoon. Squeeze the lemon –you should have about 1 Tbsp

In a large skillet, heat 2 tablespoons olive oil over medium-high. Add the brussels sprouts, season with a generous grind of pepper. Arrange the brussels sprouts in an even layer, cut-side down. Scatter the lemon zest over the top and cook, undisturbed, until the brussels sprouts are well browned underneath, 3 to 5 minutes.

Add the red-pepper flakes, stir and cook until the brussels sprouts are crisp-tender, 2 to 3 minutes. Transfer to a medium bowl.

In the same skillet, heat the remaining 1 tablespoon olive oil over medium-high. Break up any gnocchi that are stuck together, add them to the pan and cook, covered and undisturbed, until golden brown on one side, 2 to 4 minutes. If it's sticking you may wish to add ½ cup water to help it cook for 1 to 2 minutes.

Stir in the brussels sprouts until warmed through. Serve with grated Parmesan.