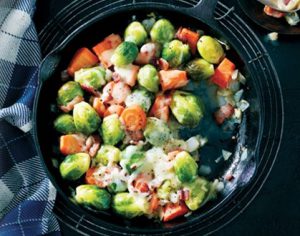 Image Source: Foodland Ontario
A hearty side dish of wholesome brussels sprouts and carrots in a honey mustard glaze topped with nuts and optional cheese.  Recipe inspired by Foodland Ontario and modified by Registered Dietitian and professional Home Economist to suit vegetarian and vegan dietary preferences.
6 servings (190 g per serving)
Ingredients
1.5 lb (680 g) Brussels sprouts, trimmed
2 large (150 g) carrots chopped
1 large (150 g) onion, chopped
1/4 tsp (1 mL) hot pepper flakes (optional)
1 tbsp (15 mL) Honey
1 tsp (5 mL) Dijon mustard
Pinch each pepper and salt (optional)
2/3 cup (70 g) walnuts, chopped
1/2 cup (125 mL) grated Swiss or Mozzarella cheese (optional – omit for Vegan version)
Method
Trim Brussels sprouts & wash well. Cut carrots into 1-inch (2.5 cm) pieces.
In a large oven proof pot of simmering water, cook Brussels sprouts and carrots for 3-5 minutes or until desired tenderness. Drain well and set aside.
Chop onion.
To the pot, add 1 tsp vegetable oil and sautee onions till softened and very light golden brown – about 5 minutes.
Stir in honey, mustard, pepper and salt (if using)
Add reserved Brussels sprouts and carrots; toss to coat well.
Sprinkle with chopped walnuts and grated cheese (if using). Bake on middle rack of 400°F (200°C) oven for 3 minutes or until cheese is melted.
Cooking Tip: If skillet handle is not heat resistant, wrap in foil.
Nutrition Facts* per serving (190 g)
Calories: 180
Fat: 10 grams
Carbohydrates: 19 grams
Protein: 8 grams
Source of 21 vitamins and minerals.
*Nutrition Facts provided using professional recipe software analysis.