Zucchini Sauce with Pasta
Makes 4 servings      Prep time 10 min.    Cook time 10 min.
Bountiful zucchini is shredded and caramelized into a tasty pasta sauce with a little bit of milk and cheese. This pasta takes just minutes to make and uses the simplest ingredients including lots of zucchini. Bonus? It's a recipe full of veggies and kid approved.
Serving Idea: Serve with your favourite protein such as lean chicken, fish or tofu.
Ingredients:
3 cups (250 g) dried penne pasta
1 lb (450 g) zucchini (about 2-3 medium) trimmed and shredded or grated
1 cup (160 g) large onion grated
2 cloves garlic minced
1 tbsp (15 ml) vegetable oil
1/2 cup (125 mL) milk (2 % MF)
1/4 cup (60 mL) freshly grated parmesan cheese
1/4 tsp (1 mL) freshly ground black pepper
pinch salt
pinch grated nutmeg (optional)
few leaves basil, chopped for garnish (optional)
Method:
Bring to boil a large pot of water and cook pasta according to package directions. Just before draining, reserve 1 cup (250 mL) of the pasta cooking water. Drain.
Shred or grate the onion and the zucchini.
In a deep large skillet heat oil over medium heat. Add the shredded zucchini and onion. Stir and sauté until wilted (about 5 min). Cover the pan and sauté for a few more minutes until soft.
Stir in the milk and bring to a gentle simmer. Stir in the parmesan cheese, black pepper, nutmeg (if using) and salt to taste.
Add the cooked pasta to the skillet with the zucchini sauce. Add 1/4 cup of reserved pasta water (or more if need) to thin the sauce. Add the basil and sprinkle with hot pepper flakes (if using).
Transfer to a bowl, serve and enjoy!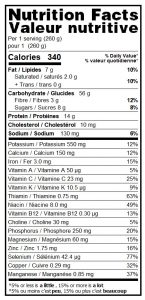 Recipe Notes:
Variations: Adult tastes may like adding ½ tsp crushed red pepper flakes.
Shredding veggies makes them appear like long strips while a grating them makes smaller fragments. If you prefer longer, textured veggies use a mandolin to shred instead of the standard household grater.
Nutrition Facts per one serving (290 grams) Calories 340; Fat 7 g; Carbohydrates 56 g; Protein 14 g; Source of 16 Vitamins and Minerals