Are you ready for virtual nutrition coaching appointments? We are open and ready to help!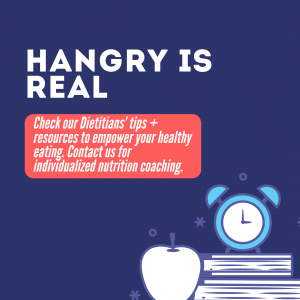 Are you tired of food myths and ready for a positive change? Check out our dietitians' blogs and recipes on this website to empower your healthy eating.
And, yes HANGRY is a real word. You may have seen hangry people who are 'bad-tempered or irritable as a result of hunger'. Kids may also get hangry when they miss a meal.
Do you have questions about good nutrition and healthy eating? Shout out to us! We offer expert personalized sessions to help you simplify eating and keep 'hangry' away.
Contact us directly for your individualized nutrition coaching appointments in a virtual format. You can register at this link or Email: Lucia@WeilerNutrition.com
Follow us on Instagram / Twitter @LuciaWeilerRD LinkedIn