Unleash your strength and personal brand – Professional career coaching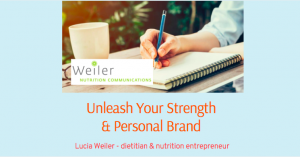 Focusing on your inner strengths is a great way to develop and build success, especially during these uncertain times. Are you ready to unleash your strength and personal brand? We can help! Our course and personal coaching sessions serve to provide you with a basic understanding of the strengths based philosophy. The importance of a strong personal brand based on your strengths can be the key to building a successful career, improve performance and a happier and healthier way to work.
Leading from your strengths impacts you and the people around you. Discover the science of strengths and the framework of strengths based leadership, which produces better results for people and teams. Save your spot for the next course or jump right into your professional reboot coaching. Register here.

Give the Gift of Professional Development
Gallup's research says 'As we look to the future, we know one of the best ways to succeed is to invest in our own and others' success. Only when we're focusing on strengths can we start to begin again — stronger than before.' Give yourself or someone else the gift of professional inner strengths development.  Do you know someone who's thinking about their future and wants to invest in themselves — maybe a family member, coworker or close friend. There is power in focusing on your strengths and helping others is empowering too. We offer gift certificates – perfect for a friend or family member.
FALL BONUS OFFER – Purchase two or more counselling packages and receive a 10% discount. Must purchase by October 15, 2023. Register here.
This is the perfect session if you want to:
discover the power of your natural strengths
build your personal and professional brand
improve yourself to perform better
find a happier and healthier way to work
Join dietitian and nutrition entrepreneur Lucia Weiler to enter the future of professional development with real-time, personalized guidance.  Let's take a virtual walk together in a positive, encouraging and motiving session that will help you discover the power of strengths and build your personal brand.
Who should attend?
This course suits the needs of participants from diverse backgrounds. Developed to support professional training and growth among early career trainees and seasoned professionals with rich and diverse experiences.
Individuals
Students
Educators
Managers
Leaders
Facilitator  Bio:  
Lucia is a Registered Dietitian and savvy nutrition entrepreneur.  She is a pro at facilitating in-person and  online workshops that empower professionals to apply their individual strengths for professional and personal success. With over 25 years of experience as a recognized leader in food and nutrition, Lucia has witnessed first-hand the power of strengths-based leadership in helping transform individuals and teams to successfully reach their goals.  As a Gallup Certified Clifton Strengths Coach Lucia leverages her unique training and extensive teaching experience to support people in mastering their natural talents to enhance individual, team and organizational performance.
Lucia is faculty at Humber College Faculty of Health Sciences and Wellness and is an active member of the Board of Directors of Canadian Foundation for Dietetic Research and former Board Director of Dietitians of Canada. Her company Weiler Nutrition Communications Inc. helps professionals and businesses thrive to achieve their goals. More information about Lucia's bio is available at www.weilernutrition.com
Course & Professional Coaching:
Professional Coaching Programs are open for registration
**Register for a course or start your Individualized Professional Reboot Program ** 
Questions? Email Lucia@WeilerNutrition.com