Rapini with garlic, chili flakes and olives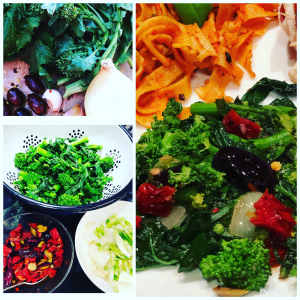 Rapini with olives is one of my all time favourite veggie dishes. Rapini is an Italian style broccoli with a leafy head. Some say it's like broccoli with a spicy bite. Sauteed rapini is becoming mainstream and as a dark green veg it's also a terrific nutrition booster. Serve hot or cold. Enjoy as warm side dish or add to sandwich next day.
Rapini with garlic, chili flakes and olives
Ingredients
1

bunch rapini

2

tbsp

olive oil

2

garlic cloves, chopped

1

medium onion, chopped

10

black olives, slivered

5

sundried tomatoes slivered (optional)

1/2

tsp

chili flakes

freshly ground black pepper
Instructions
Wash & chop 1 bunch rapini

Bring a large pot of water to boil. Add rapini.

Boil three minutes or until crisp-tender. Drain.

Heat olive oil in a skillet on medium high heat.

Add chopped garlic, sliced onion to olive oil  saute for 5 min

Add blanched rapini, sliced olives (and sundried tomatoes if using), chili flakes and toss together, cover pan and cook 3 minutes.

Remove cover, season with black pepper and serve.