Kohlrabi – How do you eat this unique veggie?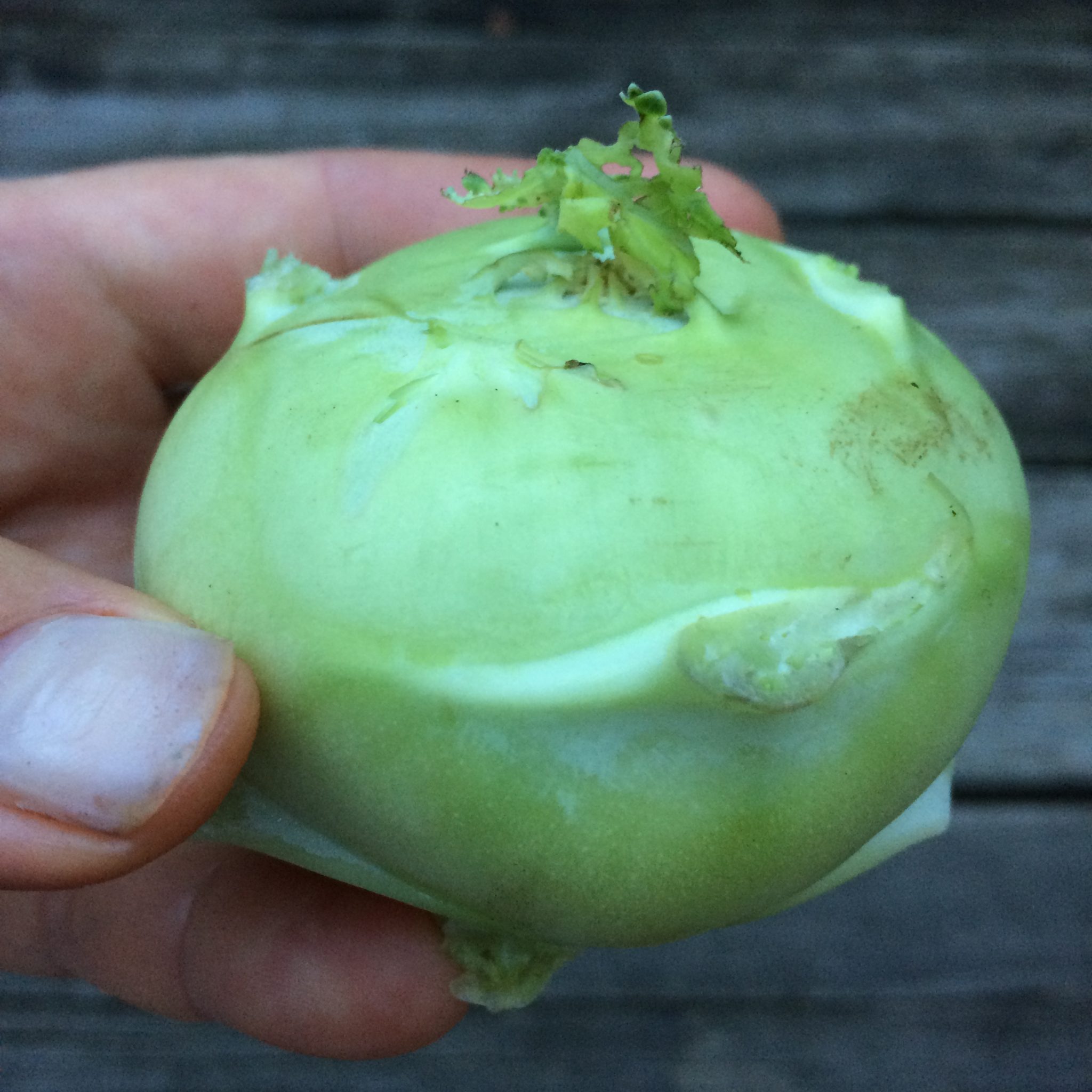 Kohlrabi is tender, crunchy vegetable, a cousin of cabbage and turnip. Kohlrabi is an excellent source of vitamin C and is also a good source of fibre which can help keep you regular, lower your cholesterol and control your blood sugar. It's great tasting raw and cooked! Be sure to peel the rough skin of the bulb before eating, and you can use the leaves like any other green leafy veg. It's a favourite in our family and here are some ways we enjoy kohlrabi most:
Raw – Kohlrabi adds a lot of crunch and a bit of a kick to dishes. Peel kohlrabi bulbs and then slice, chop or grate. For a veggie snack cut kohlrabi into sticks & serve with a hummus dip, for salads and slaws chop finely or grate.
Cooked – bake, steam or boil as you would with other veggies. My family loves soups and Kohlrabi soup is favourite. Here is my version of using this fresh veggie for taste and nutrition boost:
Kohlrabi Soup
Ingredients
4

kohlrabi bulbs

(500 g) peeled and diced small

1

cup

kohlrabi leaves finely chopped

1

onion chopped

1

tbsp

vegetable oil

1

litre

water or unsalted vegetable broth

1/2

cup

chopped parsley

hot red pepper flakes, ground black pepper and salt to taste
Instructions
Peel kohlrabi and onion, dice into small (1 cm cubes)

Wash kohlrabi leaves well and chop finely

Heat oil in a medium size pot

Add onion and kohlrabi to pot and sauté for 3 minutes, stirring continuously

Add kohlrabi greens saute for 2 more minutes

Cover vegetables with water (or unsalted broth) and bring them to a boil. Cover and simmer until the kohlrabi is tender

Season with chopped parsley, hot red pepper flakes, ground black pepper and salt to taste
Did you know NEW nutrition facts table formats will be appearing on Canadian packaged foods soon? Since we develop nutrition facts tables for clients, we wanted to show you what they look like using this Kohlrabi Soup recipe as an example. See the Nutrition Facts Table below. Notice the prominence of calories and the explanation of % Daily Values – where 5% is a little and 15 % is a lot.
Our Kohlrabi soup, per 250ml serving is only 60 calories and gives you 4 grams of fibre (13% of the daily value) making it a good source fibre! A serving of this soup is also an excellent source of Vitamin A and C. Enjoy it for taste and good health!
What's your favourite way to eat kohlrabi?