Cauliflower – a best bet veggie & recipe tips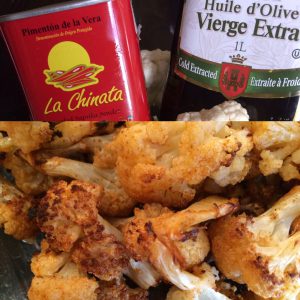 Cauliflower is a member of the cabbage family and is a surprisingly nutritious and delicious veggie. 1 cup of cauliflower is only 28 calories, with 2 grams of protein and 6 grams of total carbs which includes 2grams of fibre.[1] Cauliflower is also chock full of vitamins and minerals. It is an excellent source of Vitamin C and Folate and a good source of potassium and vitamin K. Researchers found calciferous vegetables which includes cauliflower contain phytochemicals that help the liver eliminate cancer-causing substances.[2] So why not give cauliflower a try? It is in season most of the summer and fall. You can enjoy it raw (think salads, veggies and dip) or cooked. Toss it into soups, steam it, grill it or bake it. Here is one of my family's favourite cauliflower recipes – it's so simple with only 3 ingredients and everyone loves it.
Smoked Paprika Cauliflower
Makes 4 servings
1 head cauliflower broken into florets
3 tablespoons of olive oil
1 teaspoons of smoked paprika. ( You may substitute with regular paprika, but the taste will be quite different).
Mix oil and smoked paprika in a small bowl and pour mixture in a baking dish
Add cauliflower florets and mix well till coated with oil/paprika mixture
Bake in 350 F oven for about 30 minutes till tender.
Nutrition Information per serving: Calories 130, Fat 11 g, Carbohydrate 7 g (including Fibre 4 g), Protein 3 g. Excellent Source of Vitamin C, Folate and Vitamin K; Source of Potassium, Vitamin E.
What is your favourite way to eat cauliflower?
[1] Health Canada, Canadian Nutrient File (2016)
[2] Richard Beliveau & Denis Gingras, Foods that Fight Cancer (2006)