A warm and nourishing salad of roasted squash, cinnamon-y apples, and creamy feta atop tender greens with a generous drizzle of aged balsamic vinegar. Fits the bill for a light entree, or can fit in well with a larger meal.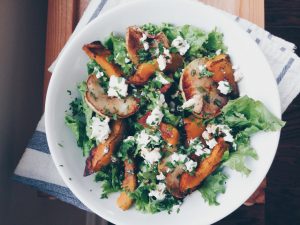 Serves 4
Ingredients
1 small buttercup squash (or butternut or acorn), peeled, seeded, and cut into 1/4- to 1/2-inch thick wedges (about 11/2 cups)
4 tsp olive oil, divided
Salt and freshly cracked black pepper, to taste
2 small red apples, cut into rounds without skinning or coring, seeds removed
1 lemon, zested and juiced
1/2 tsp cinnamon
4 cups (about 4 big handfuls) mixed baby greens and/or baby spinach
Good quality extra virgin olive oil, to finish
3 T coarsely chopped fresh flat-leaf parsley
3 T coarsely chopped fresh chives (or 1 T dried chives)
3/4 cup (about 4 oz) creamy feta
Aged balsamic vinegar, to finish
Directions
Preheat oven to 395° F, and set a rack in the lower third.
Divide squash wedges between two large rimmed baking trays. Toss with 2 tsp olive oil, and a sprinkling each of salt and black pepper. Roast 30 minutes, or until the squash is tender and golden.
In the meantime, heat a large cast iron or other heavy-bottomed skillet over medium heat, and sauté the apple slices in 2 tsp olive oil until golden on both sides. Add the lemon zest, lemon juice, and cinnamon, and give the pan a good swirl. Immediately remove the skillet from the heat; set aside.
Divide the greens between four plates or pile them onto one large serving platter. Drizzle lightly with the extra virgin olive oil, and add a sprinkling of salt and black pepper. Arrange the warm squash wedges and apple slices on top of the dressed greens, and scatter over the parsley and chives. Garnish with the feta, and finish with a good drizzle of aged balsamic vinegar. Serve immediately.
Nutrient Analysis per serving
Calories: 219; Total fat: 15 g; Carbohydrates: 18 g; Sugar: 10 g; Sodium: 287 mg; Protein: 6 g
— RECIPE from Today's Dietitian Magazine, COURTESY OF HEATHER GOESCH, MPH, RDN, LDN, AT HEATHER GOESCH NUTRITION, WWW.HEATHERGNUTRITION.COM.