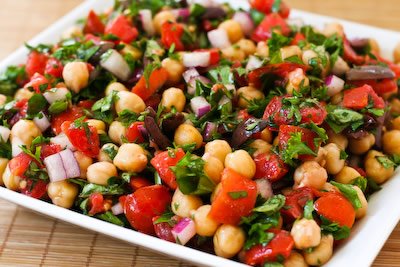 Canned beans are a time saver and work very well in this dish.
2- large tomatoes, chopped
1 can (540 mL/19 oz.) – mixed bean medley, drained and rinsed
¼ cup- finely sliced red or greeen onion
¼ cup – chopped fresh cilantro
2 tbsp – chopped fresh basil
Dressing
1 – clove garlic, minced
¼ tsp – hot pepper flakes
¼ tsp – freshly ground black pepper
A pinch of salt
1½ tbsp – extra virgin olive oil
2 tsp – balsamic vinegar
1 tsp – freshly squeezed lemon juice
In a medium bowl, combine tomatoes, bean medley, red onion, cilantro and basil
Dressing: In a small bowl, whisk together garlic, hot pepper flakes, black pepper, salt, oil, vinegar and lemon juice
Pour dressing over bean mixture and toss gently to coat. Cover and refrigerate for at least 1 hour, until chilled, or for up to 1 day.
Makes 6 servings
Tip: Be sure to wash cilantro thoroughly, as it may have some soil hidden among the leaves
Serving Idea: Add half an egg salad sandwich and a glass of milk for a satisfying lunch.
Nutrients per serving:
Energy: 143 calories,
Fat 4.3 g
Saturated fat 0.7 g
Sodium 379 mg (16 %DV)
Carbohydrate 21 g
Fibre 6 g (24 % DV)
Protein: 7 g
Calcium 43 mg (4%DV)
Iron 1.2 mg (9% DV)
High in Vitamin A, C and Folate
by Lucia Weiler, RD as published in COOK! by Dietitians of Canada