Are you looking for a tasty & healthy Caesar salad recipe that makes the grade? Check out this student made dietitian approved dish that may 'make healthy your new favourite' .
 Makes 5 servings of 4 cups (450 g)
 Ingredients:      
13 cups (700 g) romaine lettuce, chopped
2 cups (340 g) tomatoes, sliced
2 cups (300 g) red pepper, chopped
2 ½ cups (300 g) English cucumber, sliced
1 ½ cup (200 g) pre-cooked chicken breast, diced
1 large (150 g) red onion, sliced
1 six inch(64 g) whole wheat pita bread, cut in pieces
3 tbsp (25 g) olives
3 tbsp (22 g) light feta cheese
4 small (20 g) green onion, sliced
Salad Dressing:
2 ½ tbsp (40 mL) olive oil
2 tbsp (30 mL) lemon juice
1 tsp (5 mL) red wine vinegar
1 tsp (3 g) garlic, chopped
1 tsp (1 g) dill weed, dried
½ tsp (1 g) oregano, ground
Preparation: 
Wash, rinse and dry lettuce leaves then chop into bite size pieces.
Cut all other vegetables to appropriate sizes
Make Dressing: Mix together oil, lemon juice, garlic, vinegar, oregano, and dill.
Mix the dressing and toss all salad ingredients together.
Place pre-cooked chicken pieces and pita bread pieces on top of salad.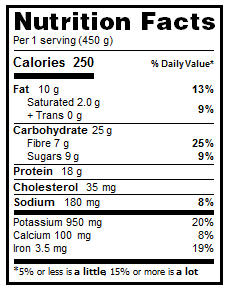 Recipe created by: Humber College HRT Students
Image source & Nutrition Facts table: Lucia Weiler RD, PHEc, Humber College Faculty and Advisor