Stuffed Chinese Wontons (Soup)

Stuffed wontons are easy to make! These classic Chinese dumplings are one of our favourites. We add them to soups along with cooked veggies for tasty meal. Wontons can be made ahead and individually frozen. I use a small cookie sheet to freeze the uncooked wontons. Once frozen, I move them to a sealed plastic container and store them in the freezer until needed.
Ingredients for 25 wontons
25 wonton wraps – 3 inch square each (200 g package of wonton wraps makes about 25 wontons)
Filling
¼ lb ground pork (you may substitute ground TOFU for a veggie option)
2 TBSP (about 5) water chestnuts chopped
2 dried mushrooms (soak 5 min, drain, chop)
2 TBSP green onions chopped
1 TBSP soy sauce (sodium reduced)
1 tsp sesame oil
1 tsp garlic, grated
1 tsp fresh ginger root, grated
½ tsp oyster sauce
Salt pepper to taste
¼ tsp hot sauce (optional)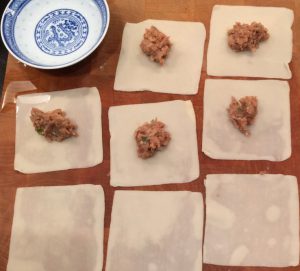 Mix filling ingredients and stir well to form an even mixture
Lay wonton wraps on counter, fill the centre of the wonton wrap with about 1 teaspoon of filling
Wet the edges of thewonton and fold wonton in half (forming a triangle). Join the edges, press to seal
Fold over the wontons pressing the tips together [If freezing wontons do so before cooking them]
Add wontons to simmering stock or soup. Simmer for about 10 minutes. (12 minutes if using from frozen)
Veggie boost for your wonton soup
In a skillet, stir fry 1 cup of veggies you have on hand. (mix of carrots, onions, broccoli or bokchoy, frozen peas) Add to the soups broth and wontons for a more filling meal. Enjoy!
Nutrients per serving (5 meat wontons only) Calories 170; Fat 4 g, Protein 8.6 g, Carbohydrate 25 g