Everyday Vinaigrette Recipe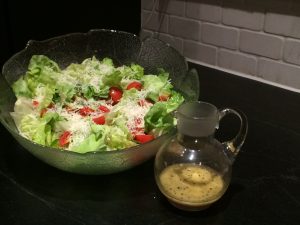 This is one of my all-time favourite salad dressing recipes. It tastes great on any combination of salad greens and is so easy to make. Try the different vinaigrettes for a variety of flavours. After a while you won't even need the recipe just remember 3 key ingredients (oil, vinegar and water in equal proportions ie. 2 tablespoons of each) flavoured with 3 more ingredients (garlic, mustard and black pepper.) Enjoy!
Makes 6 tbsp (90 mL)
Ingredients
2 tbsp (25 mL) olive or vegetable oil
2 tbsp (25 mL) of either lemon juice, or rice vinegar, or apple cider vinegar or balsamic vinegar
2 tbsp (25 mL) water
1 small clove garlic, minced
1 tsp (5 mL) Dijon mustard
Freshly ground pepper (and a pinch of salt if desired)
Directions
In small measuring cup or bowl, or jar with screw top, combine all ingredients (oil, lemon juice /or vinegar, water, garlic, mustard, salt and pepper)
Mix well.
Nutrition information per serving per 1 Tbsp (15 mL)
Calories: 42 calories
Protein: 0 g
Total fat: 5 g
Saturated fat: 1 g
Cholesterol: 0 mg
Carbohydrate: 1 g
Fibre: 0 g
Sodium: 11 mg
Potassium: 9 mg
by Anne Lindsay