Dietitian or Nutritionist? What's the Difference?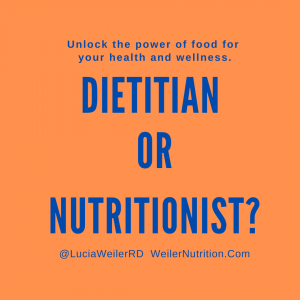 There is often a mix-up about the difference between a dietitian and a nutritionist. Many people mistakenly use the terms "Dietitian" and "Nutritionist" interchangeably but there are big differences between the qualifications and the protection of your health. To be sure you are accessing the most qualified nutrition professional, look for the initials RD or PDt (DtP in French) after the health professional's name or ask – are you a dietitian? Remember EVERY dietitian is also a nutritionist but NOT every nutritionist is a registered dietitian.
Let's take a closer look at the important differences that can impact your health and wellness.
What is a Dietitian?
The title 'Dietitian' is protected by provincial laws across Canada just like a nurse, dentist, physician and pharmacist.
Dietitians are highly educated and trained. They have a university degree in foods and nutrition. After graduating they undergo comprehensive training, both on the job and in universities and then they have to pass a rigorous professional licensing exam.
Dietitians are the only regulated health professionals in the field of nutrition. This means that they must belong to a regulatory body and adhere to their standards, otherwise they will be penalized with legal action.
Regulated by a Health Professional College the public is protected and has access to accredited and licensed nutrition advice from Dietitians.
Dietitians are held accountable for safe, competent and ethical nutrition services throughout their career.
What is a Nutritionist*?
The title 'Nutritionist' is NOT protected by law so technically anyone can call themselves a nutritionist.
A Nutritionist's education varies with different levels of training and knowledge. The title nutritionist is often used by those who have completed privately owned training programs that vary in length and rigor.
The risk is that unregulated people calling themselves 'nutritionist' can offer advice regardless of their education or training which could be dangerous. For example recommending vitamins, minerals herbal products regardless of their knowledge and training in this area could put the public at risk of nutrition misinformation that may result in health-related harm.
* In the Canadian provinces of Alberta, Quebec and Nova Scotia the title Nutritionist is also a protected title along with Dietitian. If you live in these provinces, please refer to your provincial regulations for criteria or send us a question and we'll be happy to direct you to the source information. Dietitians of Canada – The difference between a dietitian and nutritionist
Why Work with a Dietitian?
We are all hungry for information about nutrition and health, but not all advice out there is credible and evidence-based. Think about it, you wouldn't ask a celebrity how to build a safe bridge; you'd ask a professional engineer. You also wouldn't ask any friend to fill your cavity, you'd ask a dentist. The same thinking should apply for nutrition advice. So dig a little deeper and look for credentials.
If you choose to work with a Dietitian you know they are qualified health professionals who give you life-changing advice for healthy living. Dietitians are passionate about the power of food and help unlock its power for your health and wellness.
Dietitians are the most credible and trusted health professionals who promote health through food and nutrition. You can find out if your nutrition professional is a registered dietitian by checking the College of Dietitians Registry in your province or territory. Many dietitians are also found on the Dietitians of Canada website under 'find a dietitian'.
As dietitians we are experts at translating the science to help people navigate their food and nutrition related health and wellness journey. Contact us with your questions! We're ready to help.