The ultimate nutrition course for NON-nutritionists is going online!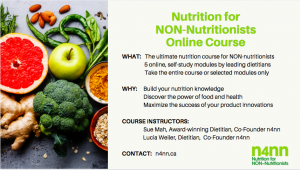 Announcing: the n4nn ONLINE course!
Are you ready to take your nutrition knowledge to the next level? Join hundreds of your colleagues and competitors who have leveraged our successful training course – now available online!
Coming – January 25, 2021
Save now with our Black Friday Sale!
n4nn is the ONLY nutrition course in Canada developed by marketing savvy dietitians for food, beverage and product innovation professionals.
Take the full course (5 modules) or just the modules of interest.
Get more info about the course and see the course modules
Register now to take advantage of Black Friday Sale pricing!
Have a question about the n4nn Online Course? – Contact us! 
Best regards,
Lucia Weiler  & Sue Mah
Registered Dietitians & Co-founders, n4nn
Follow us on social media!
Instagram: @Nutrition4NonNutritionists
Twitter: @Nutrition4NonN
Facebook: Nutrition4NonNutritionists
Website:  NutritionForNonNutritionists.com