New Research: Labels could do more to reveal nutritious foods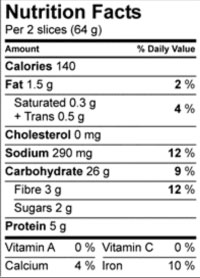 A new Health Canada survey found that consumers are confused by the nutrition facts table on the back of prepackaged foods. The research was conducted for Health Canada through a series of 8 focus groups to determine whether various elements of a future educational campaign were clear and appropriate. Serving sizes and the % DV were particularly challenging for consumers. We believe that nutrition professionals and food manufacturers have a great opportunity to help shoppers make healthy food choices and make labels easier to understand. Contact us for more information about how we can help leverage the valuable information found in the nutritional facts panel.
Click here for a full copy of the "Focus Testing of Creatives for the Nutrition Facts Education Iniative" report filed at Library and Archives Canada.
link: http://epe.lac-bac.gc.ca/100/200/301/pwgsc-tpsgc/por-ef/health/2010/075-09/report.pdf