Courses, Seminars & Speaker Series
Are you looking for a presentation that is persuasive, inspiring, and motivating? Our  audience engaging courses and seminars range from one hour, half day or a full day. Work with us, accredited Registered Dietitians and food-nutrition experts to meet your organization's needs:
PIVOT in times of change! New inner strengths based professional development course online with coaching session options:

Are you ready to unleash your strength and personal brand? We can help!
Leading from your strengths impacts you and the people around you. Our professional development workshop introduces the science of strengths and the framework of strengths based leadership, which produces better results for people and teams. Register and join us at our next session to pivot your power and brand!
More info link  **Register for this course and professional coaching sessions** 
Announcing: the n4nn ONLINE course!
Are you ready to take your nutrition knowledge to the next level? Join hundreds of your colleagues and competitors who have leveraged our successful training course – now available online!
Coming – January 25, 2021
Save now with our Black Friday Sale!
3. One Bite at a Time – Dietitian & Chef team up to bring you healthy eating tips and tastes
4. What's Hot? Trends & Mythbusting
5. Healthy Food Shopper – your aisle by aisle guide with Canada's Food Guide to Healthy Eating
6. Food Safety Certification Training recognized across Canada
7. News in Nutrition Labelling – Canadian Regulatory Landscape Update
8. TRY THIS NOT THAT – Healthful Recipe & Menu Makeovers for chefs and food service operators
Other courses and presentations, conference and keynote speaker services
---
1.

Nutrition for NON-Nutritionists™ !
Lucia Weiler is Co-Founder of N4NN with fellow dietitian Sue Mah.  During Covid19 join us on Instagram Live Fridays 1 PM (@NutritionForNONNutritionist) Let's connect about how YOU are doing and how our shared love of food and nutrition can help us stay positive and shape the future. Send us your questions on IG and we hope to see you there!
April 28, 2020 N4NN live course at University of Toronto has been cancelled due to the evolving situation of COVID-19.
Please sign up for our newsletter to stay informed about news & upcoming webinars!
In House Full and half day courses available for team and knowledge building.
Customized content for your organization's unique needs. Contact us for more details.
Consumer interest in healthy foods continues to rise. Leverage this growing demand.
Reasons to Attend
Understand nutrition fundamentals
Get behind-the-scene insights on nutrition trends
Discover more about current health issues relevant to your business
Learn from nutrition marketing case studies
Maximize the success of your product innovations and nutrition communications
Who Should Attend
Marketing and Sales Professionals
Agency Partners in Public Relations and Advertising
Professionals in the Food, Beverage & Grocery Industries
Product Development and Consumer Relations Representatives
"Solid one-day program. Highlighted the latest nutritional trends that are affecting everything from product innovation and marketing to government relations."
– David Morelli, Director, Public Affairs, Tim Hortons

"I found the course very informative, interesting and relevant to my work.  The presentations had a lot of helpful visuals and the material was presented in a lively, clear and friendly manner.   I highly recommend the course."
– Carla Ventin, Vice President, Federal Government Affairs, Food & Consumer Products of Canada (FCPC)

Great "inspired' educational day….definitely worth the time away from the office.
-Dawn Ehler, Director, National Accounts, Foodservice, A. Lassonde Inc.
"A great course for anyone in consumer marketing with clients in the food/nutrition business."
-Sharon Rainey, Senior Public Relations Professional
   
2. Workplace / Employee Health & Wellness


    – Eating 9 to 5! Solutions to Common Workday Challenges




    – Improve Your Performance: Managing Stress with Proper Nutrition


    – How to build a 

healthy

 eating workplace culture that is good for your business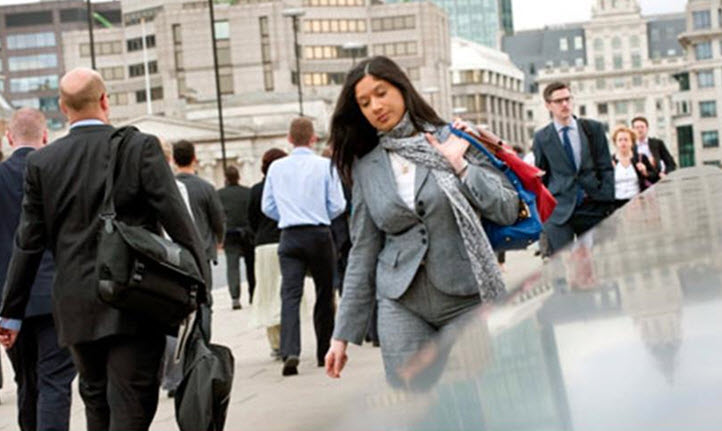 Are you looking to build a culture of good health at your place of work? Let us help you transform your working environment into one that supports healthy lifestyles.  Our workshops "Eating 9 to 5!" , "Improve your performance: Managing Stress with Proper Nutrition" and  "How to build a healthy eating workplace culture that is good for your business" are ready to help Canadians to eat well at work.  We partner with you to deliver a team building opportunity and provide a positive shift in food and nutrition knowledge that promotes healthy balanced eating. Our interactive style engages participants and leaves them with valuable tools that they can use both at home and at work to eat and live better. Invite our experienced professional speakers to your next lunch and learn event and hear our top tips for a healthier workplace ! For more information, please contact us  Here is why working with a Registered Dietitian (RD) makes a difference!
RDs are the only regulated health professionals in the field of nutrition.
Dietitians are qualified to offer Canadians trust-worthy, science-based food and nutrition advice tailored to their health goals, preferences, and lifestyles.
Presenter Information
Lucia Weiler is a registered dietitian, professional home economist, food and nutrition expert, and instructor at Humber College Faculty of Health Sciences and Wellness. Lucia translates the science of nutrition to unlock the power of food and delivers life-changing advice for healthy living. She is a leader in her profession, an engaging speaker, writer and media influencer.
3. One Bite at a Time – Dietitian & Chef team up to bring you healthy eating tips and tastes 
Credible nutrition tips never tasted so good! We integrate culinary skills with top nutrition tips so you can experience the relationship between good nutrition and cooking. Savour the difference as our Dietitian-Chef team shows you  how to make the healthy choice the easy choice and make every tasty bite count.
"Lucia and Chef Eric were great today at our annual interdisciplinary conference.  They ran a session on nutrition myth busting. The room was packed, and the entire group really enjoyed the event not only for its content but also because Lucia and Eric made it so accessible and enjoyable. Great work in promoting health and wellness!"
– Paula F. Gouveia, Ph.D.,  Dean, School of Liberal Arts and Sciences, Humber College
"Lucia, Thank you so much for joining us as a presenter at the Canadian Digestive Health Foundation's Discover the World Within education summit for health care professionals. Having you and Chef Eric lend your expertise to our program greatly enhanced our event. Attendees appreciated the information you provided and we have had nothing but positive feedback from delegates and exhibitors. Below are just a few quotes from our guests.
"Thank you for presenting this event. It was very well organized and the reputable speakers provided excellent, up-to-date information."
"I will use this information every day in public and community health interactions."
"I now have a better understanding of how diversity in our diet impacts the microbiota."
On behalf of Richard Fedorak, CDHF's President and Richard Hunt our event host and CDHF co-Founder, thank you again for supporting the CDHF, our delegates and a future that includes an understanding of how the human gut microbiota influences – and enhances — lifelong health." – Catherine Mulvale, Executive Director, Canadian Digestive Health Foundation
4. What's Hot? Trends and Mythbusting
What's Hot? Trends and Mythbusting workshop is an interactive fun way to learn about what's in – and what's out – when it comes to nutrition and healthy eating. Check out top grocery trends and look behind the scene for the hottest menu trends 10 years from now!
5. Healthy Food Shopper – your aisle by aisle guide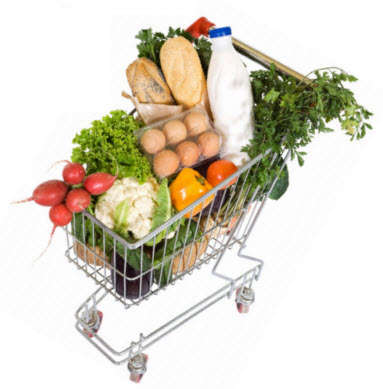 Learn about the main components of a healthy diet and how to navigate the aisles of your supermarket to choose the healthiest options! You'll also learn how to read food labels so you can feel confident and empowered to make more health-conscious decisions.
6. Food Safety certification for pros and everyday cooks.  

One in eight Canadians (or four million people) get sick due to food illness each year according to a recent report by The Public Health Agency of Canada. The risk of foodborne illness is significantly reduced when proper food safety procedures are in place. As a result, Canada's food service operations including restaurants, grocery stores and central kitchens, train many of their employees through government approved food safety programs. In a recent survey of consumers, 76% said they would be more confident eating in a restaurant that displayed food safety training certificates in public areas.
Our approach can help you learn more about safe food handling practices
As a food service professional you have a responsibility to provide safe food. Our programs will help you learn how to do that. Government regulations describe the requirements for a food sanitation and hygiene training programs. We engage chefs, managers and staff about safe food handling practices to meet regulations and accreditation standards for certification. Our food safety courses are interactive and designed to help your team meet their responsibilities to provide safe food. (See testimonial below from training provided to HUMBER College Staff and Faculty)
Course facilitator Lucia Weiler is a Food Scientist, Registered Dietitian Nutritionist who brings over 20 years of food industry and teaching experience to the program.
"Lucia, Thank you for the wonderful and engaging food safety session.  We all learned new things, reflected on current practices and you made it fun so the time just flew by!  Excellent teaching."
–  Susan Somerville  RD Dean School of Hospitality, Recreation & Tourism Humber Institute of Technology & Advanced Learning.
"Lucia, Thank you for a wonderful class! It was so informative, and you definitely helped me retain the information much more than solely reading the book. Your memory aids, activities, and subject knowledge really helped me. Thank you again!"
– J. Bancheri, Instructor Baking & Culinary Arts Program, Humber College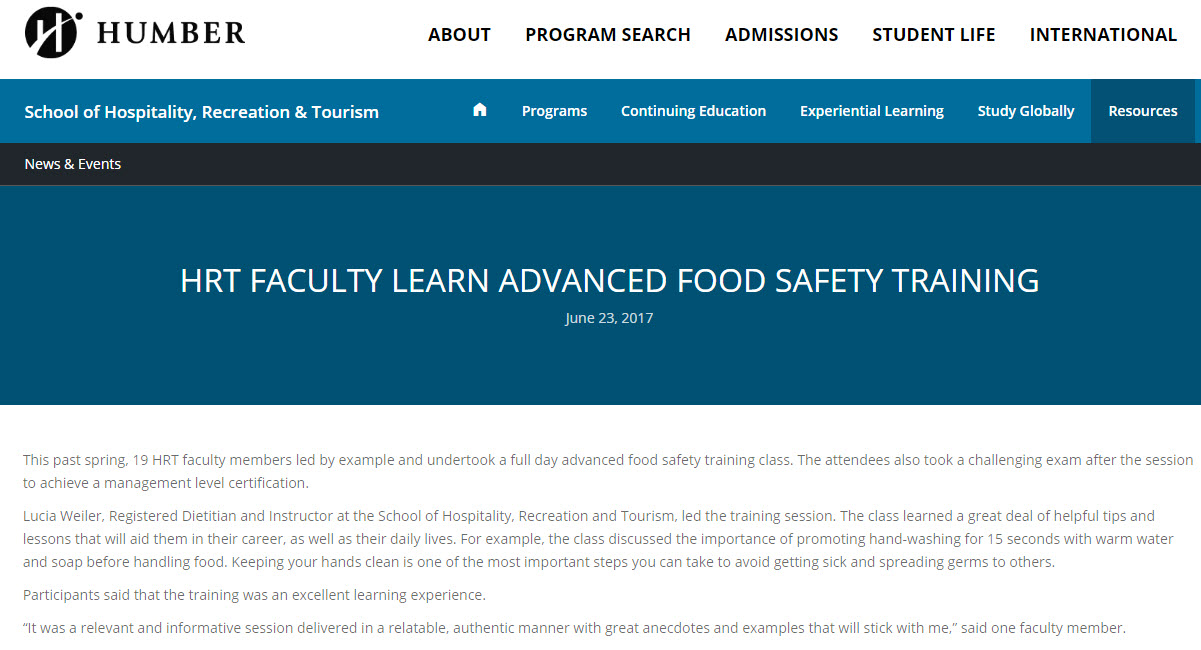 We offer:
BASICS.fst Food Safety Training (Consumer and Employee Level Training) and
ADVANCED.fst Food Safety Training (Managerial and Supervisor Level Training)
An exam-based training and certification program for food retail and foodservice professionals, developed in Canada based on Canadian Food Retail and Foodservice Regulation and Code, Health Canada and CFIA. Successful completion of this program means that an individual holds a certificate that is considered acceptable by the Ministry of Health across Canada.
Format: Courses are customized to meet your in-company business needs.
For more information, please contact us
Lucia Weiler BSc, Registered Dietitian Nutritionist
President, Weiler Nutrition Communications Inc.
416-985-0537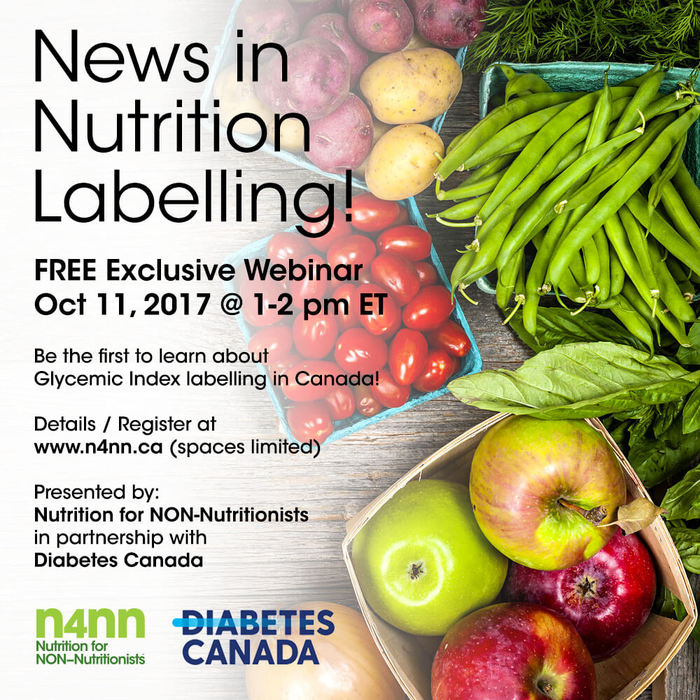 8. TRY THIS NOT THAT – Healthful Recipe & Menu Makeovers.
Are you a chef or a food service operator looking to discover how to boost the goodness in your menus? Customers are looking for ways to enjoy eating out without giving up the taste they love or their desires for healthier choices.  Our innovative workshop offers a push-pull model for the opportunity to create more healthful recipes in food service operations, and encourage customers to seek and order these dishes more often. Start Swapping! Discover just how easy it is to make your favorite recipes healthier without sacrificing flavor. Join this workshop and check out how a Registered Dietitian, Nutritionist puts an evidence based, healthful spin on recipes to help you get started on your healthy cooking makeover.
1. The skinny on fat
2. Sweet swaps
3. Savory substitutions for lowering salt
4. Pick the perfect protein
5. Add some more of these wholesome ingredients
Other courses & presentations are available upon request. Please contact us.