Stuffed Eggplant – Italian style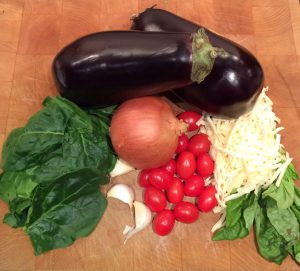 Want to eat healthy Mediterranean style? Try this tasty stuffed eggplant dish. Wholesome ingredients, with a little bit of olive oil pack in lots of nutrients with a very high source of fibre to boot. If you took the pledge to make veggies #HalfYourPlate – this dish is for you.
Prep: 10 mins   
Cook: 40 mins    
Easy. Serves 4
Ingredients
2 eggplants
1 large onion finely chopped
3 garlic cloves, finely chopped
15 cherry tomatoes, halved
1/3 cup pitted black or green olives, chopped
1 cup of spinach leaves chopped
handful basil leaves, chopped
1 cup mozzarella cheese, shredded
2 tbsp olive oil (divided)
Ground black pepper to taste
Directions
Heat oven to 450 F
Slice the eggplant in half lengthwise, leaving the stem intact. Use a small knife, cut a border inside each aubergine about 1 inch (2 cm). Using a teaspoon, scoop out the eggplant flesh, so that you have 4 shells. Brush these with a little of the olive oil, place on a baking sheet. Cover with foil and bake for about 25 mins.

Chop the eggplant flesh you scooped out and place to one side. Chop onion and other veggies.
Add the remaining (1 tbsp.) olive oil to a non-stick pot. Cook the onion and cook until soft. Add the chopped eggplant flesh and cook through. Add in the chopped garlic and halved cherry tomatoes and cook for 3 mins more. Stir in olives, basil and seasoning.

When the eggplant shells are tender, remove from the oven and reduce heat to 400F. Pile stuffing into shells and sprinkle with shredded cheese
.
Bake for 5-10 min until the cheese is gooey and melted

Enjoy – #HalfYourPlate is veggies!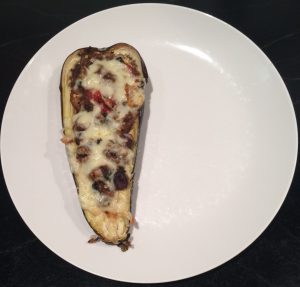 Nutrient Analysis per serving
Calories: 250; Total fat: 15 g; Carbohydrates: 22g; Sugar: 9 g; Fibre 10 g; Sodium: 390 mg; Protein: 11 g
Very high source of fibre Canada's Food Guide Servings: Vegetables 6.5, Milk and Alternatives 0.6
Adapted by Lucia Weiler RD, from bbcgoodfood.com